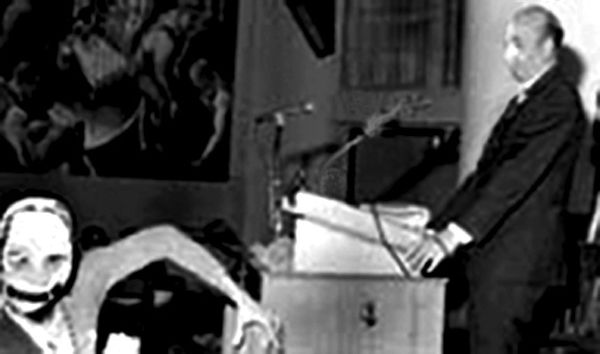 One remarkable profile remains as we reach the end of this series on the Indiana University New Left reunion, summer 2013.† Jim Retherford has had an extraordinarily noteworthy and diverse career on the left from his early years at I.U. to present day.
He has been a fearless New Left editor, a political performance artist, part of a guerrilla theater troupe, and along the way got acquainted with some of the legendary figures of the unforgettable '60s/early '70s. Running through the years of his rich resume, one sees he also has been an award-winning journalist and graphic designer — a veritable man of the left "for all seasons."
Jim Retherford arrived at I.U. in '60 with excellent student journalist credentials, but as a typical politically naïve freshman. Campus events soon politicized him.
He got off to a good start as a college journalist, landing a top position on the staff of the campus daily, the Indiana Daily Student (IDS), during his first semester and by spring becoming the paper's first ever freshman sports editor.
Then he inadvertently witnessed an early I.U. New Left action and came away politicized. A tiny group of students called the Fair Play for Cuba Committee (FPCC), protesting the U.S. naval blockade of Cuba during the missile crisis of fall '62, were jeered, harassed, and threatened by a crowd of several thousand hostile students. Jim came away profoundly horrified and later would become a lifelong supporter of the Cuban Revolution.       
As an activist, Jim leaned toward dramatic action in matters political. A few years after, Students for a Democratic Society (SDS) was organized at I.U., and Jim joined up. The group, opposed to the Vietnam War, had adopted a policy of open meetings, open mike. On one occasion a conservative student leader took advantage and filibustered a meeting with a pro-war rant.
Other than shouts to end the harangue, the group sat passively, reluctant to violate SDS's policy of openness. Jim Retherford was not having it, so he and a fellow activist took a large American flag off the pole in a corner of the stage, "wrapped" the speaker in the flag, and duck-walked him off stage to much laughter and relief.
The following year, 1966, several students created an alternative campus paper, The Spectator, and several months later Jim became the editor. The experience would take him beyond political awareness and radicalize him.
A lively political-cultural alternative to the campus newspaper, The Spectator drew on Underground Press Service and Liberation News Service — both New Left news services —for stories ignored by the mainstream media. [Retherford was one of the founders of LNS and worked closely with co-directors Marshall Bloom and Ray Mungo.] Under Jim's aegis, the paper became increasingly critical of I.U.'s administration and trustees as well as the local, state, and national political establishment and moved steadily toward an "underground" existence.
The Spectator gave ample coverage to the spirited I.U. New Left of which the university president was highly critical. When brother Jeff Sharlet, then SDS president, rebutted the criticism in a major speech, Jim promptly published the full text. ††
National Yippie "Summit" in NYC, 1971 (first row, left to right) Jerry Rubin, Abe Peck, David Fenton,
Abbie Hoffman, Jim Retherford (back row) Ed Sanders, Super Joel, Martin Kenner,
Nancy Kurshan, Anita Hoffman, Tom King Forcade)
Former UC Berkeley president Clark Kerr, who used police to try to
crush the 1964 Free Speech Movement, samples a cream pie
delivered by the Red Devil, October 14, 1969
Trick or treat, October 14, 1969
Hundreds took to the streets and packed the courthouse
for Retherford's "Keystone Kourt" trial, March, 1970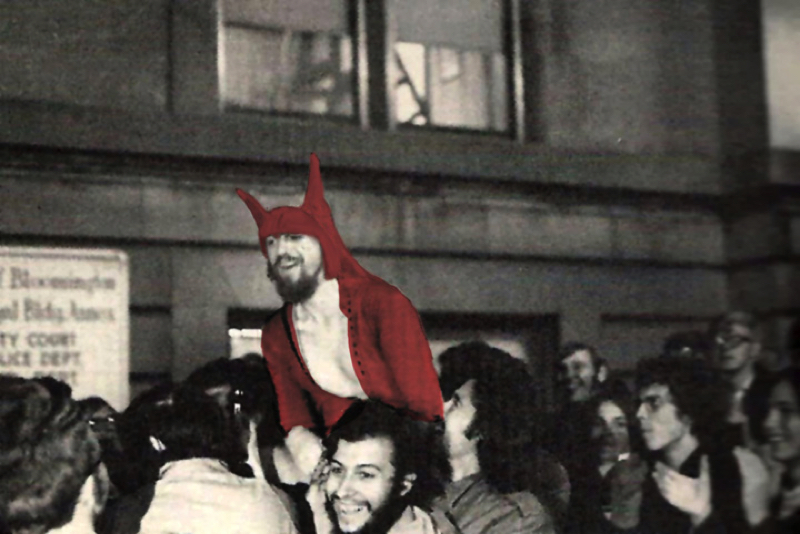 Jim Retherford, the Man in a Red Devil Suit, outside the Bloomington,
Indiana, jail, October, 1969. (Dave Repp Collection: Indiana University Archives)
By Robert Sharlet
Chauncey Winters research professor of Political Science, Union College, Schenectady, NY
[This profile previously appeared in Bob Sharlet's blog, Searching for Jeff, and The Rag Blog.]
Editor's note: Last summer political scientist Bob Sharlet attended a reunion in Bloomington, Indiana, of New Left activists who had gone to school at Indiana University in the 1960s and early 1970s. They came to the event from all over the country. "Quite a number had not broken bread or lifted a glass together in at least a quarter of a century," Bob noted, "while many had neither met nor even spoken for over fifty years."
Sharlet interviewed several of those in attendance for his blog, Searching for Jeff, which is dedicated to his late brother, Jeff Sharlet, who was a leader of the GI resistance movement during the Vietnam War and also was active in SDS at Indiana in the mid-'60s. (And who shouldn't be confused with the award-winning journalist and author of the same name. That Jeff Sharlet is Bob Sharlett's son.)
Sharlet's final interview was with Austin resident and Rag Blog designer/editor Jim Retherford, who has been our friend and colleague dating back to his days in Bloomington when he was editing the underground paper, The Spectator, and we were publishing The Rag in Austin. Here is Bob Sharlet's profile of the "Man in a Red Devil Suit."
—Thorne Dreyer, The Rag Blog
Election night 1972 found Jim Retherford walking the streets of Manhattan in the company of John Lennon and friends. Headed to Jerry Rubin's election watch party carrying armloads of tequila, the group happened by a major NY bank branch office on a dark corner and "spontaneously" came up with the idea of "trashing" the windows. The tequila bottles they tossed shattered, but the bank windows survived.
The '70s were an eventful time on the East Coast, and Jim Retherford was in the thick of it. In late spring '70, he went to New Haven, CT, with the band Elephant's Memory, an experimental rock group better known as the John Lennon-Yoko Ono Plastic Ono Elephant's Memory Band. The band performed at a huge May Day demo on the green across from the Yale campus as thousands protested the trial of Bobby Seale and the New Haven Black Panthers.
♫
Time to make your mind up
I said it's time to take a stand
Time to come together
You know the power's in your hand
— Elephant's Memory, "Liberation Special"
♫
That summer Jim joined Abbie Hoffman for a Yippie happening at Madison Square Garden in New York. Taking on the popular band Blood Sweat and Tears, just back from a tour of Communist East Europe covertly underwritten by the CIA, Hoffman and his troupe dumped 50 pounds of cow manure and passed out leaflets mocking the band as "Blood Sweat and Bullshit" at the garden's entrance just as the crowd was arriving for the concert.
The following year a New York federal grand jury subpoenaed Retherford and fellow Yippies, "fishing" for information about a bombing in Washington with which the five had no connection. Calling themselves the "Ever-Expanding Number," the Yippie group duly appeared at the federal building with Jim dressed up in a King Kong costume. If the feds were looking for antiwar guerrillas, he figured, why not dress like a real gorilla.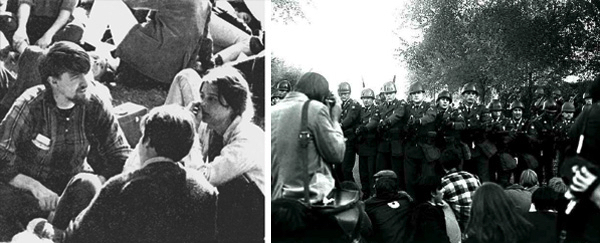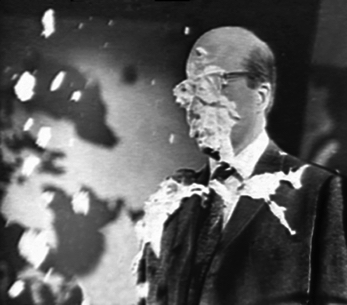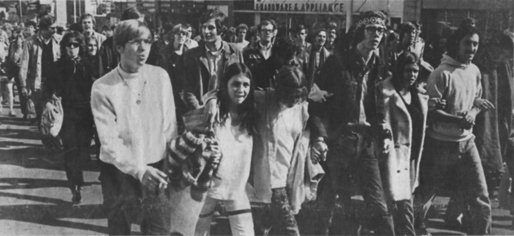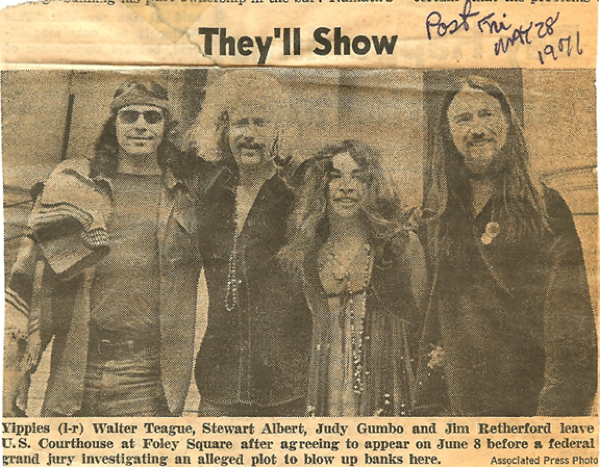 A federal grand jury in New York subpoenaed (left to right) Walter Teague, Stew Albert, Judy Gumbo,
and Jim Retherford in a nationwide "fishing expedition" following the Weather Underground's bombing
of the U.S. Capitol (New York Post, March 28, 1971)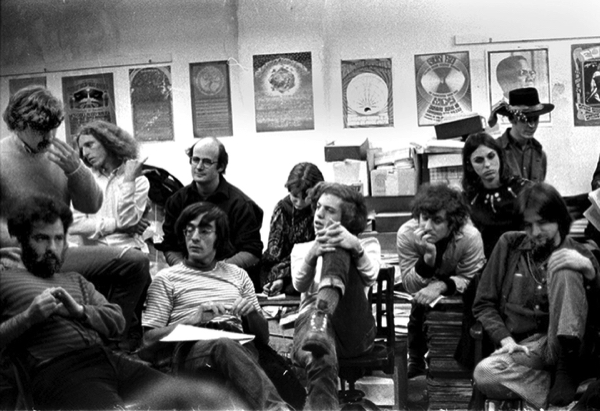 Later in the decade, Jim left New York and relocated to Texas — first Houston (where he edited a progressive community newspaper under the banner of listener-sponsored radio pioneer Pacifica Foundation), then Austin — where he raised his young son Jesse James. He eventually joined the staff at the University of Texas at Austin.
Fast forward to the present, Jim Retherford retired several years ago as senior graphics designer at the University of Texas library system. As a longtime Austinite, he continues to take part in the city's progressive politics through SDS-resurgent Movement for a Democratic Society, the New Journalism Project, and more recently Democratic Socialists of America (DSA).
Long a premier journalist with national awards to his credit, Jim Retherford continues to publish. In 2004 the New York Times ran his op-ed, and, since its inception in '06, several of his essays have appeared in The Rag Blog*, a weekly online journal of the left edited by Thorne Dreyer in Austin, Texas.
A modest individual, Jim Retherford has compiled an amazing curriculum vitae of a lifetime on the left. This brings to a close Lives of the New Left, a series responsive to the historical question, "What became of the Indiana New Left?"
The essays in response, framed in the lives of the individuals profiled, are also meant to reflect the generation of '60s activists writ large of whom the I.U. group was an integral part.
________________________________
† There were additional speakers at the reunion assembly, but only the recordings of the remarks by the fifteen individuals profiled in Lives of the New Left I-VI were sufficiently audible.
†† For an account of Jeff Sharlet's public exchange with the I.U. president, see http://jeffsharletandvietnamgi.blogspot.com/2011/08/elvis-and-new-left-at-indiana.html
* The Rag was a legendary alternative newspaper in Austin, TX, a major center of the counterculture of the '60s and was closely associated with the SDS chapter at University of Texas-Austin. From a reunion of former staffers, the RagBlog.com was founded in 2006. An online news magazine, it features much of the same content as its predecessor and is edited by Thorne Dreyer, one of the original Rag editors, who also hosts Rag Radio. This post has benefited from his 2010 Rag Radio interview with Jim Retherford in 2010.
The paper afforded great visibility to major demostrations against campus visits by Army General Maxwell Taylor; General Lewis Hershey, director of the Selective Service System; Secretary of State Dean Rusk; as well as to the sit-in blocking Dow Chemical recruiters at the I.U. business school.
In the midst of all the protests, Jim Retherford was summoned by his draft board. He turned up at the induction center wearing Viet Cong-style black pajamas and rubber sandals and handed out antiwar leaflets to the inductees. The feds weren't amused and responded with an over-the-top threefold indictment against him for trivial technical violations of the Selective Service law, including one for not carrying his draft card. (He had two, thanks to an error by his local draft board).
Simultaneously, the university authorities, who had become quite irritated with The Spectator's criticism of their policies, moved to silence Jim and the irreverent paper. The Spectator staff was ordered to vacate its campus premises. Impatient, the dean of faculty, a former CIA Middle East station chief, decided to expedite the eviction. With a fire axe in hand, he broke down the door, destroyed equipment, and scattered files in the snow.
Undeterred, Jim moved the paper off campus to what he called a no-rent "liberated zone" in a dimly lit apartment house basement and continued the steady drumbeat of coverage and sharp criticism of I.U.'s administrators and their policies. Street sales of the paper reached 2,000; there were also mail subscriptions as well as orders from bookstores as far away as Boston and San Francisco.
In late spring '68, Jim Retherford went on trial in federal court. During the daylong trial, the prosecutor rarely mentioned the alleged draft law violations and instead read lengthy portions of Spectator articles, which he claimed were seditious and treasonous. The judge agreed, and Jim was found guilty and sentenced to six years in prison. His appeal bond was then revoked, and he languished in jail for nearly three months until his conviction was overturned on appeal thanks to the effort of a prominent New York leftist lawyer, Leonard Boudin.
Jim left Bloomington, moved to New York, and onto the national stage of the antiwar struggle. Earlier in '67 he had already played a role as an organizer of the siege of the Pentagon when thousands of protestors from all over the country encircled the immense building in an attempt to "levitate" it.
In New York, Jim soon hooked up with poet, singer, and activist Ed Sanders, co-founder of the Fugs, a well-known psychedelic rock band of the day. He got to know Yippie leader Jerry Rubin, whose book he agreed to ghostwrite. DO IT! Scenarios of the Revolution was published in early '70 to much fanfare and a lengthy run on the New York Times best-seller list.
♫
Who can train guerrillas by the dozens?
Send them out to kill their untrained cousins?
Fucking-a man!
CIA Man!
♫
In early '69, federal conspiracy charges were filed in Chicago against Jerry Rubin, Dave Dellinger, Tom Hayden, and others for their parts in the antiwar demonstrations at the Democratic National Convention. With Rubin and Abbie Hoffman in the lead, the defendants turned the trial into raucous political theater with federal judge Julius Hoffman cast as villain. As Jerry's friend and ghostwriter, Jim was invited to Chicago to take in the wild courtroom scene.
En route back to New York, he stopped off in Bloomington to visit friends and heard that Clark Kerr, former president of the University of California Berkeley and bête noir of the '64 Free Speech Movement at Berkeley, would be speaking at I.U. By coincidence, Jerry Rubin, former UC Berkeley student and infant terrible of the FSM (and Jim's "co-conspirator" on the just- finished Do It! book project), was booked to speak at a Vietnam Moratorium event at nearby
Dunn Meadow.
Sensing a potential "cosmic/revolutionary convergence," Jim planned a Yippie counter-performance. As Kerr began his remarks, Jim, who'd been hiding in the wings, rushed onstage decked out in a red devil costume and threw a cream pie in the speaker's face. Hoping to get away, the "red devil" was nonetheless caught, arrested, convicted of disorderly conduct, and sentenced to 90 days in jail. The "pieing" of Clark Kerr made national and international news and spawned a new "movement" in political pastry slinging.